---
Fourth generation farmer, Sam Gotelli, has been passionate about farming from a very young age. Some of his early jobs included watering young trees in the orchard, putting cartons on young trees to prevent damage, and slowly but surely learning to drive a tractor. All of these smaller jobs slowly taught him the little details that go into the bigger picture of the farming of an orchard. As Sam learned more about how the small jobs played a part in the overall picture, he grew more and more interested in farming.
Now, Sam farms numerous cherry and walnut orchards throughout the Central Valley. He enjoys the unpredictability and variability of farming, as well as being able to watch a crop grow. At times the work can be challenging, but the overall sense of ownership and involvement in growing cherries and walnuts make it a lifestyle for Sam. "It is rewarding to know that the work throughout the year results in something you can grow and eat when you harvest the crop. I'm playing a small part in a big picture," Sam says. "Just like anyone else contributes with their line of work, it is rewarding to know that I am doing my part in the community through providing produce."
Pruning is used to help tree produce larger fruit. With less branches and less buds, the tree can focus more of its energy on fewer cherries.
---
Sweet Cherries
The variety "Sweet cherries" is used to consolidate many of the lesser known varieties. This variety includes: Lambert, Gibralter, Skeena, Van, and many other varieties. These varieties are traditionally used as a pollinator in different orchards.
YLF Pro Tip: What's a Pollinator?
Pollinator trees are used by farmers to help in the pollination process. In cherry orchards, there will be a couple rows of pollinator trees in each orchard. These trees help bees to spread different types of pollen across the orchard. Pollinator trees usually have a different harvest period than the rest of the orchard.
Size is determined for cherries by a "row size" system. This was developed in the early days of packing when very little was automated. Row size was determined by how many cherries could be hand packed at the bottom of a "L.A. Lug 18lb box" across a row. Size usually ranges from 8.5 (large) row to 12 row (small) in 0.5 row increments.
---
Category: Afternoon Drive
Distance from LA: 350 miles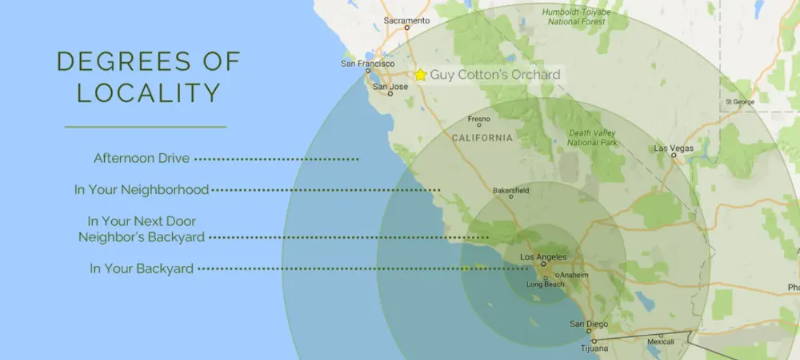 ---
California Sweet Cherries

California Sweet Cherries
Global GAP certified: certification program that focuses on conservation, worker safety, and sustainability